Clouds
in
Mental
Ray
Physical
Sun
and
Sky
Posted by Antonio

Hits: 36966

In this Maya and Mental Ray tutorial we are going to take a look at an effective and quite simple technique to achieve realistic clouds in Mental Ray Physical Sun and Sky inside Maya. Adding clouds can greatly increase the appeal of your renders. If you want to do realistic exterior renders in Maya and Mental Ray you can't miss this article!
TYPE: Free maya render tutorial
CATEGORY: Maya render, Mental Ray Render
INTRO

There's a lot of mess about how to obtain cloudy skies in Maya renders with Mental Ray Physical Sun and Sky. I read many maya tutorials about that but none really worked properly so I decide to make one myself...hope it will help you in your render creations! We are going to talk about 3 effective and quite simple methods to achive realistic clouds with Mental Ray renderer and Maya. Anyway in the last method (the third) I make deep explanations because I think it's the most convenient than the other two. Let's get started!
WHY I NEED CLOUDY SKIES?

The answer is simple: if you are trying to achive realistic renders you need details, then you have to take care of your skies as much as your ground.
Doing some "cloudy work" can massively enhance your renders...the render below wouldn't be the same without a nice background sky!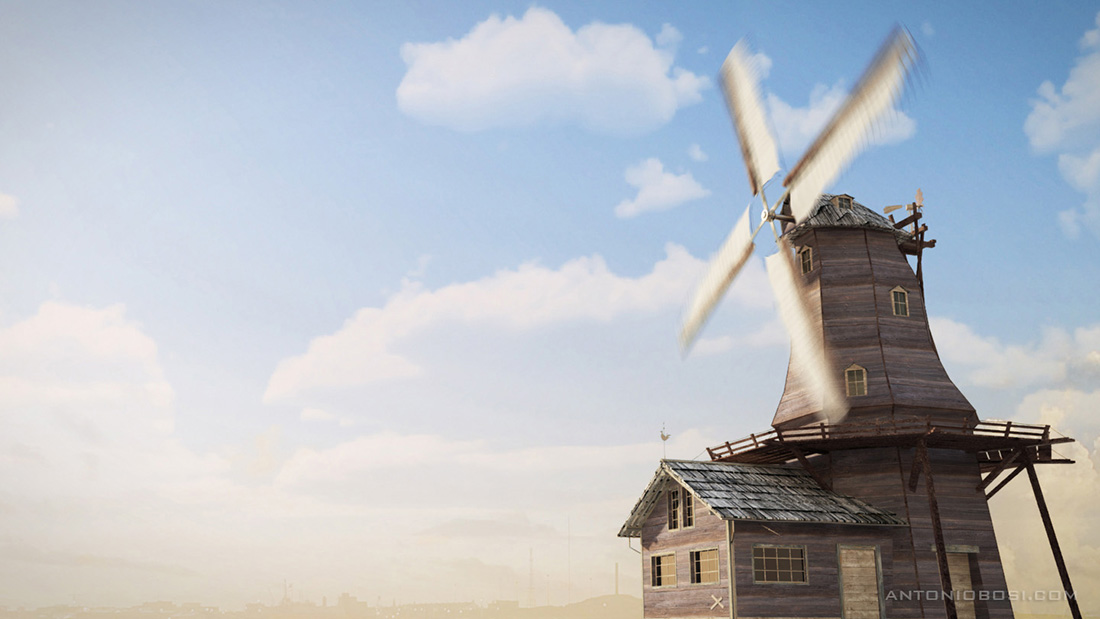 I collected 3 main method to achive cloudy skies, I called them:


1) Internal
2) External
3) Hybrid

METHOD 1: EXTERNAL CLOUDY SKY (compositing)




The external method is the most popular and simple, just render your exterior scene with the proper alpha or matte channel and composite the final image with your favourite 2D composition software (photoshop, after effects, nuke, ecc..).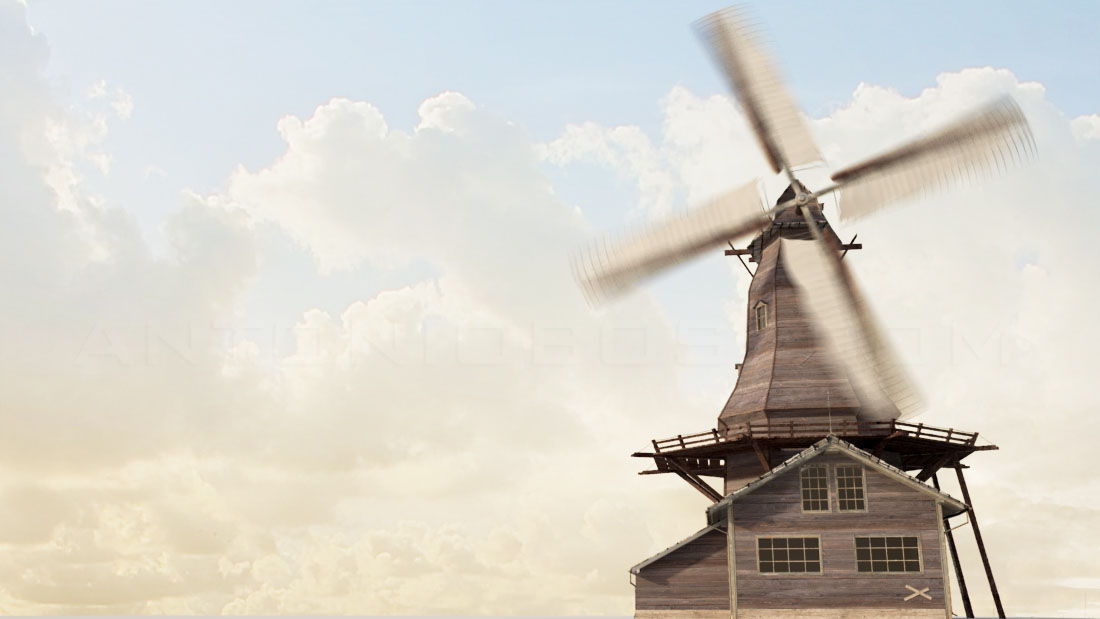 External method: the background sky were added in Photoshop





Windmill 3D model rendered in Maya + Alpha mask + Background sky image



When working with composited external skies you should always keep in mind that the sky does not really exist in your scene, this will make your scene render fast but you won't render reflections and refractions properly..... take care!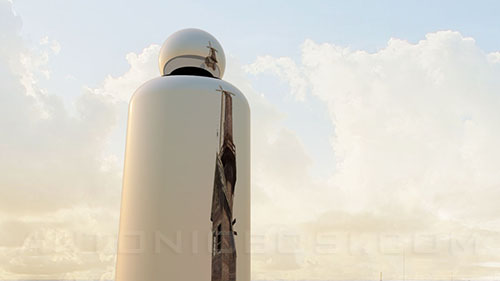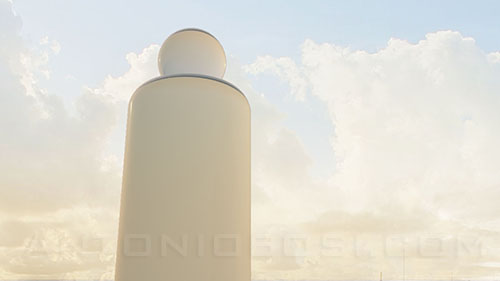 External Cloudy Sky Method: no reflections and refractions of the sky are rendered


External Method Summary


PROS:
Very fast, no additional rendere times because the cloudy sky doesn't really exist in the 3d scene
Easly customizable, you can easly change the apparence of the sky with external applications
CONS:
No reflections: the sky will not be present in reflected surfaces
No refractions: you won't see the sky in your transparent surfaces
No real light contribution: the external sky will not cast or recive light, the overall appearence
of the rendered light will not be influenced by the external sky (you will always get a
clean day illumination type even if you put an overcast sky)

METHOD 2: INTERNAL CLOUDY SKY (all 3D)



I'm not a big fan of the internal method because its very time consuming: basically we have to create and render the entire environmental sky inside Maya. This "brute force" approach will give you the most realistic result but it will take a lot of time in creating, tuning and rendering.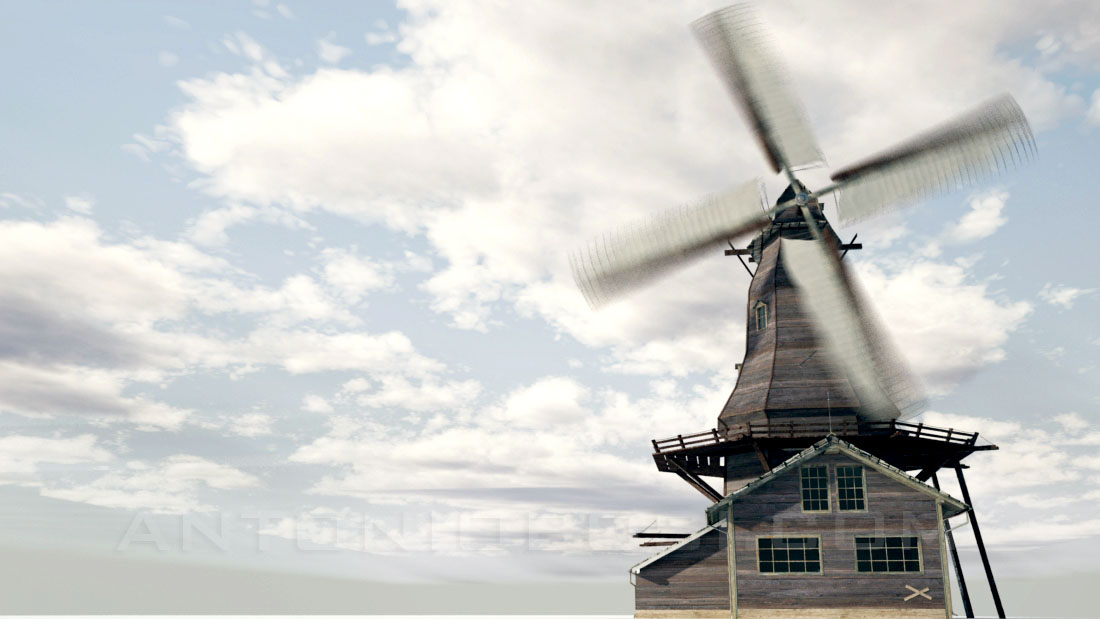 With the Internal cloudy sky method you won't have problems with reflections and refractions, you will also get realistic illumination and shadows.

To build real 3D clouds you need to use and master dynamic particles or fluid effects, you can find tons of tutorials in the net.
I created and setup a fluid system to obtain clouds, I put about 10 mins in creating and tuning my clouds (not a big time) but my render times gone crazy!!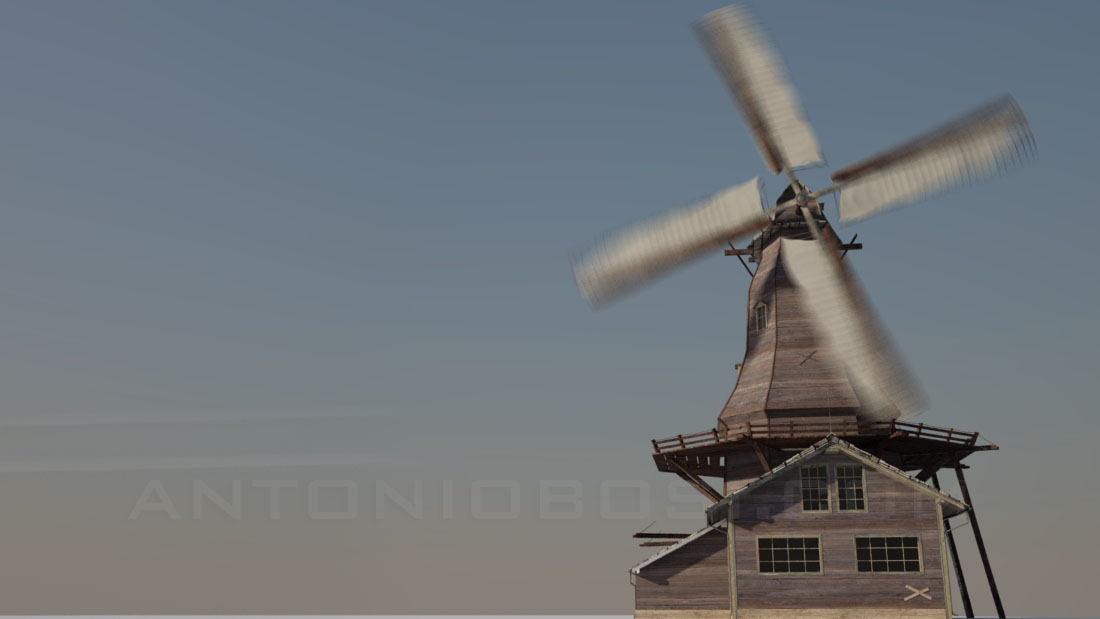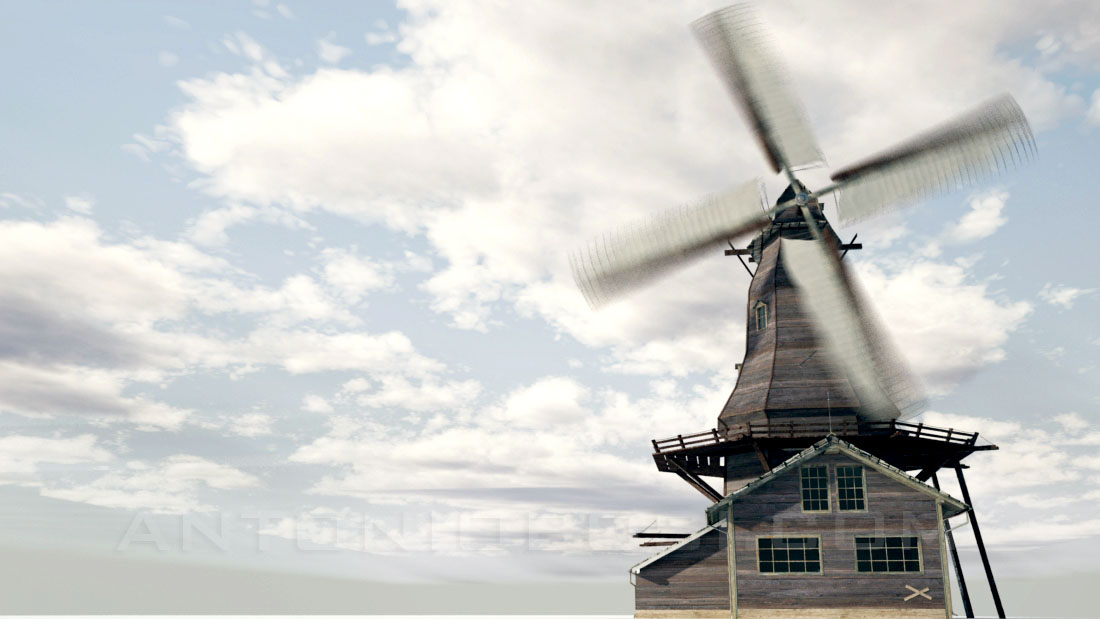 No clouds: render time 2:20 min Real 3D clouds: render time 21:51 min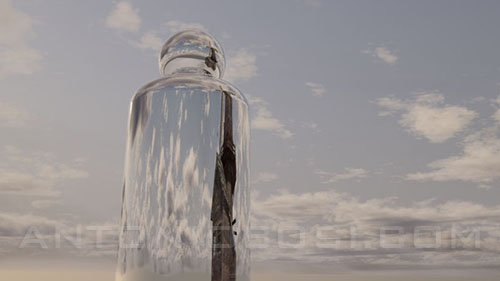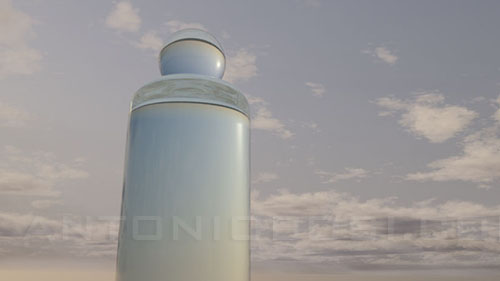 Internal Cloudy Sky Method: reflections and refractions of the sky are rendered properly



I advise you to use the internal method just if you must (like when you have to render an animated 3d environment with animated clouds).


Internal Method Summary

PROS:
Realistic reflections and refractions
Physically accurate lighting
Animation capabilities
CONS:
Lots of work: You have to create and tune the entire environment inside Maya.
High render time: volumetric effects are famous for their crazy render times!




METHOD 3: HYBRID/FAST METHOD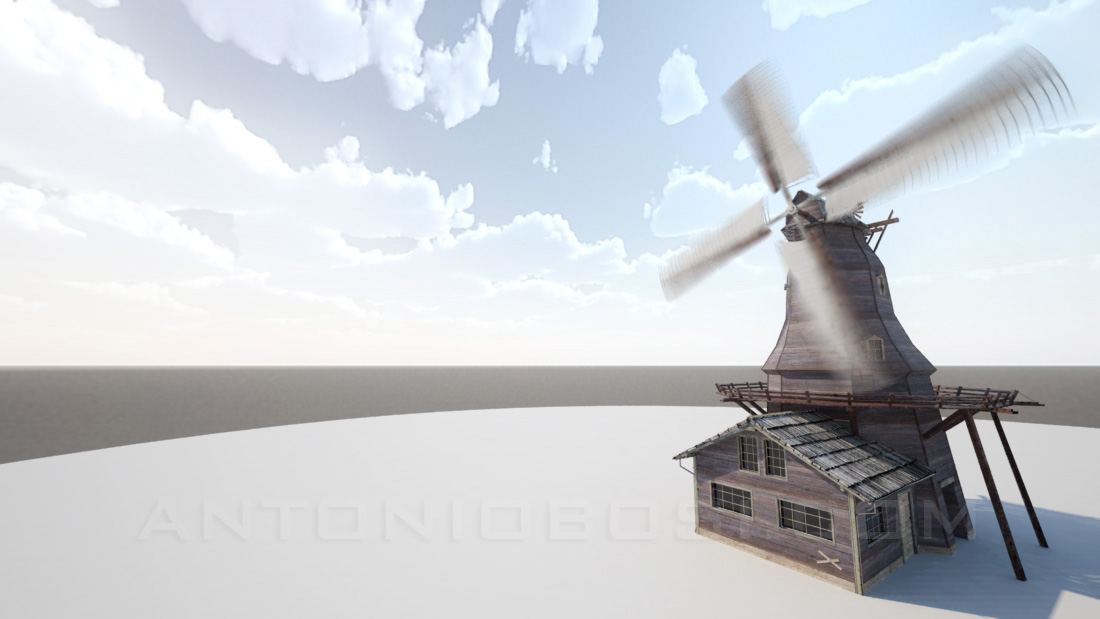 The third method is an hybrid between the internal and the external method: we use an external sky image to drive the internal rendered sky.
By the way this is my favourite method.


STEP 1: find a good panoramic sky image


First of all we need a Cloudy Sky Image (download here for free), HDR images are advised.

STEP 2: create Mental Ray sun and sky system
Open your scene and create the Mental Ray's Sun and Sky from the Maya render settings.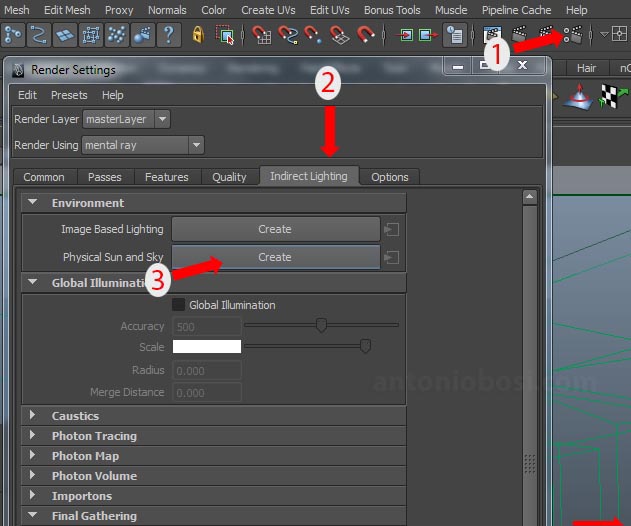 STEP 3: create and connect Maya and Mental Ray nodes



Create these nodes from the Hypershade:
1) luminance
2) multiplyDivide
3) mib_lookup_spherical

Connect those nodes as follow:
1) luminance node to Physical Sky's multipler attribute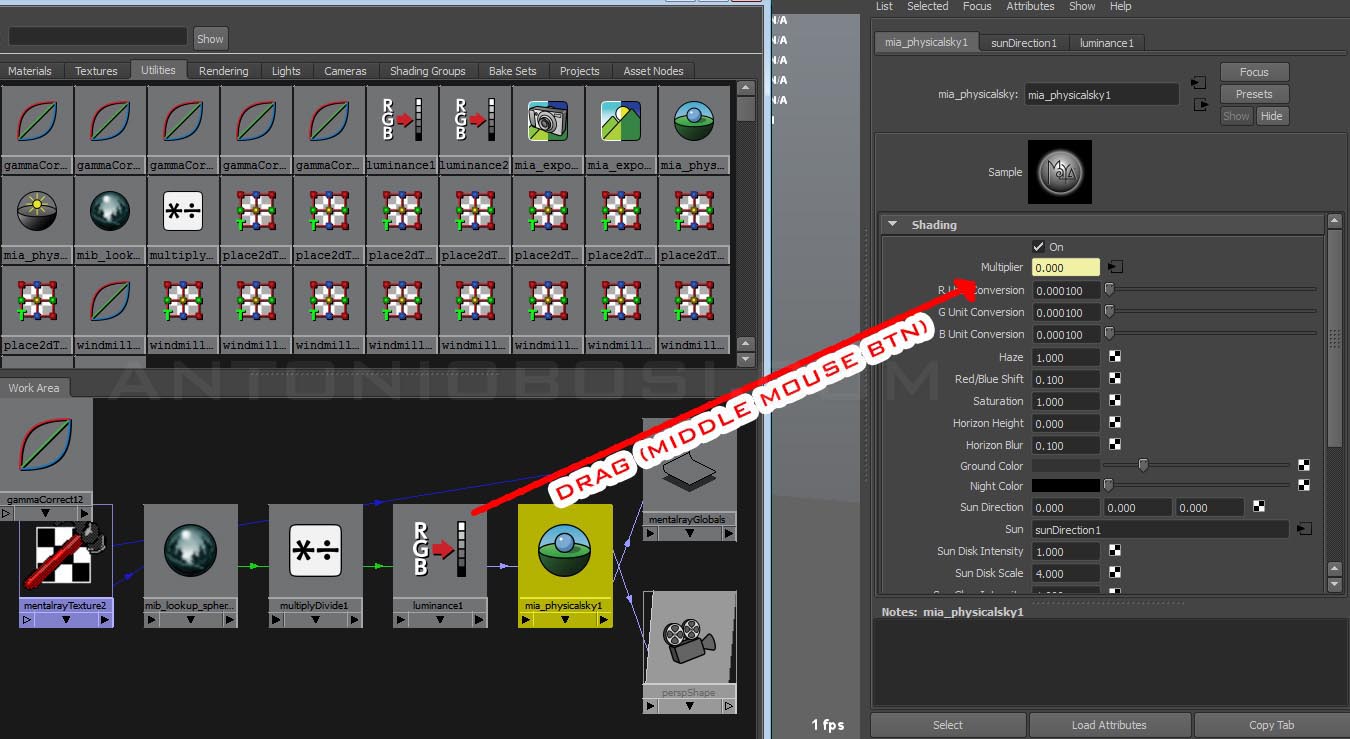 2) multiplyDivide to Luminance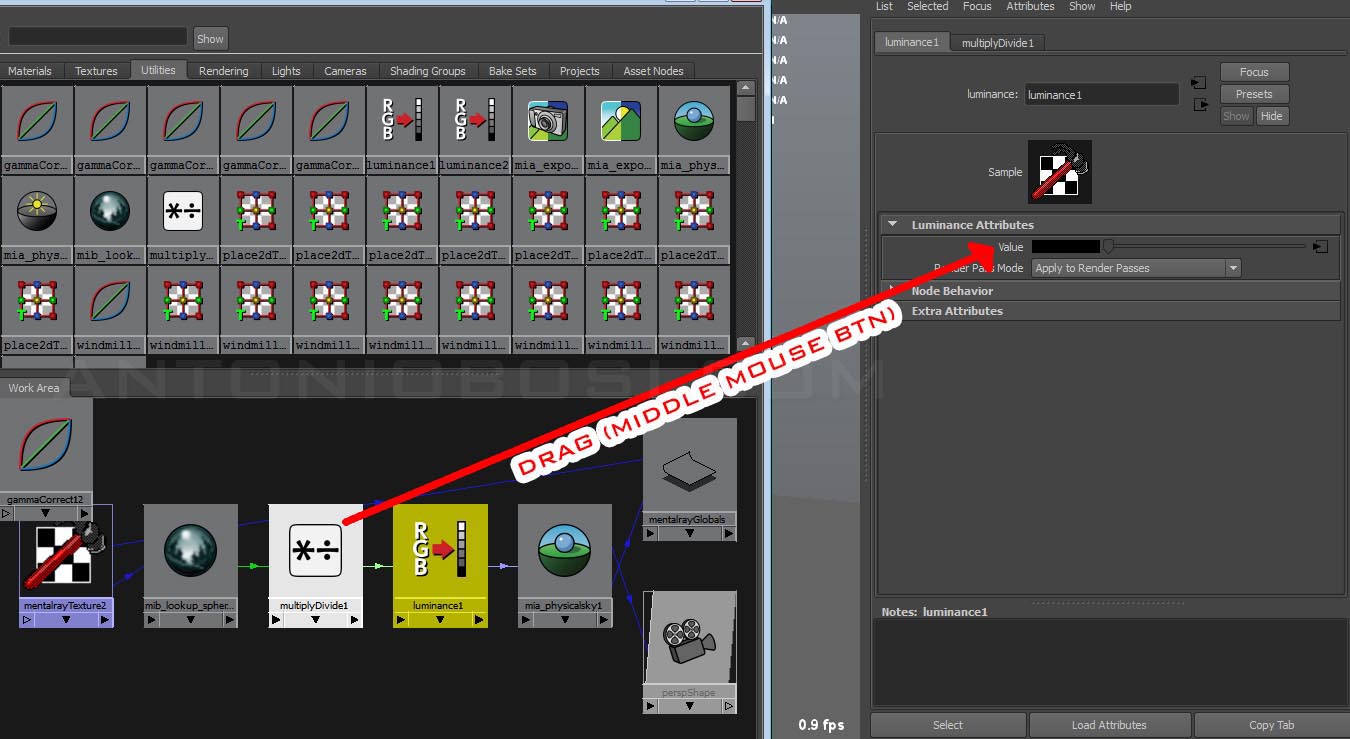 3) mib_lookup_spherical to multiplyDivide's input 1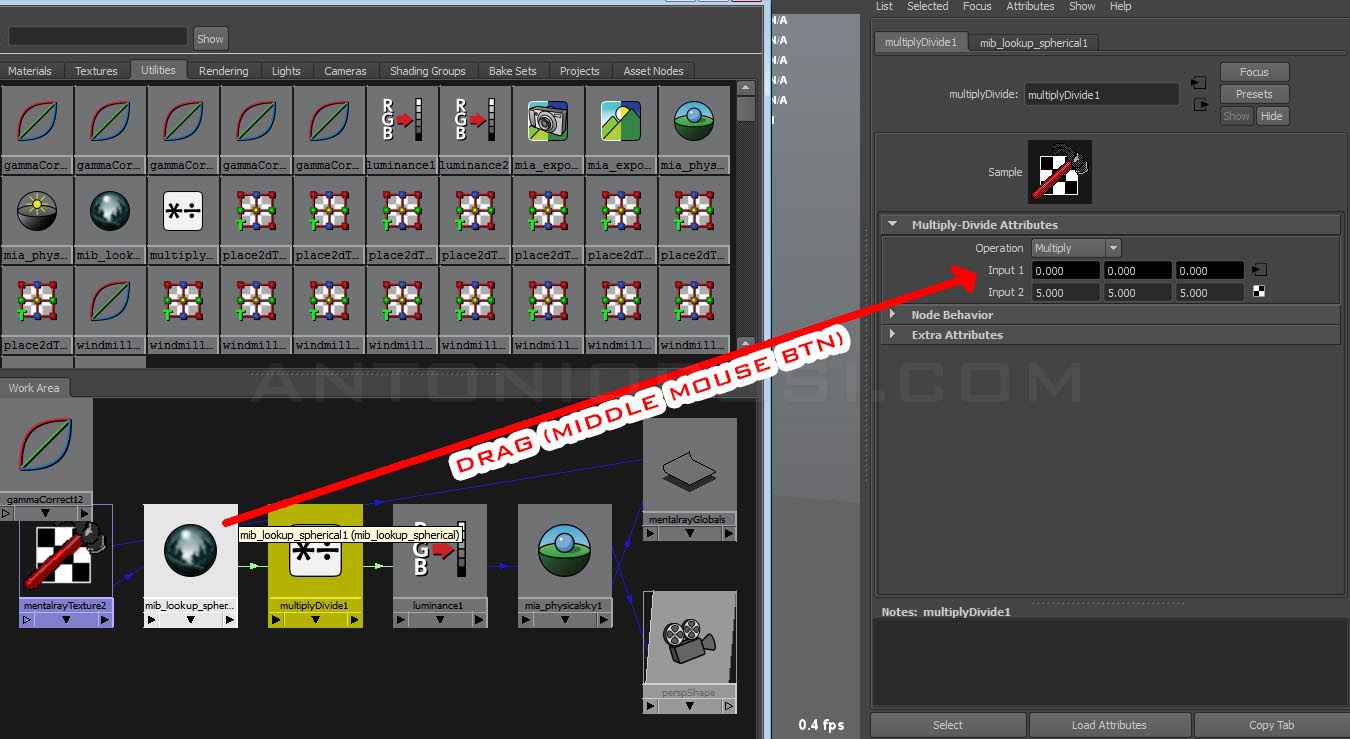 4) sky texture file in the mib_lookup_spherical's Texture attribute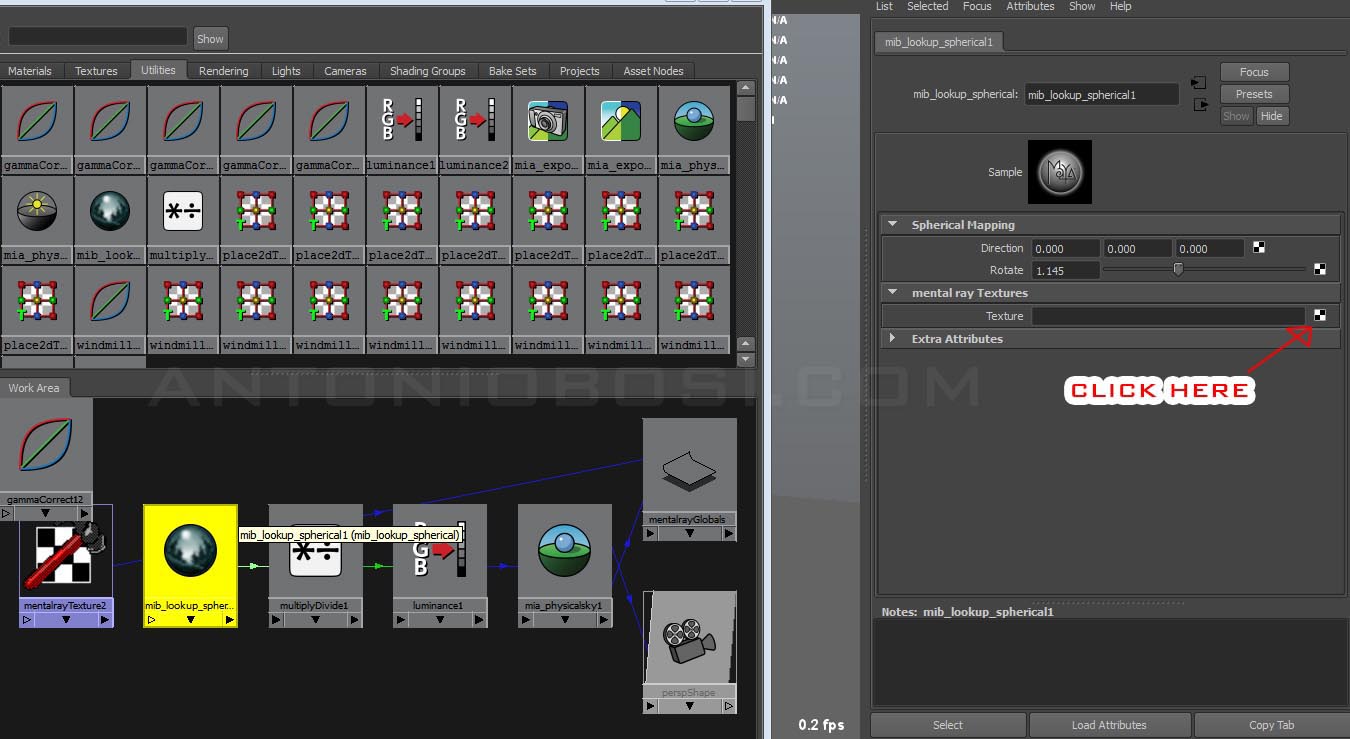 STEP 4: tune the multiply node

We need to pump up the values of the multiply node (try some vaues between 2 and 10), high values can generate burned areas and artifacts.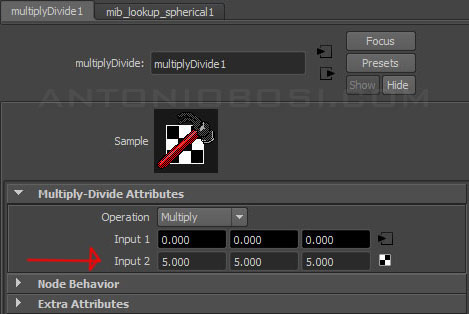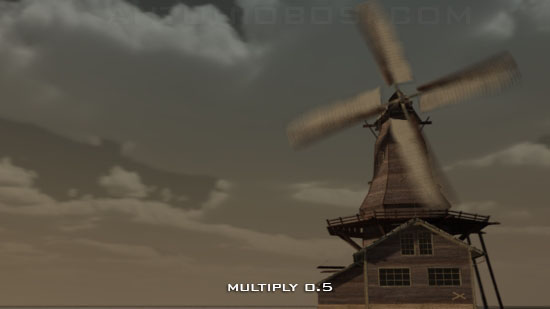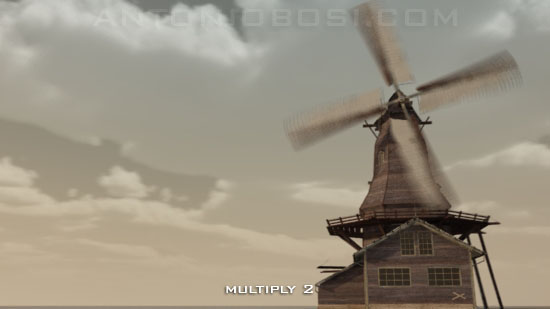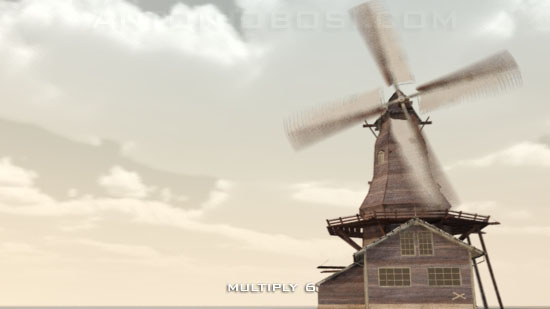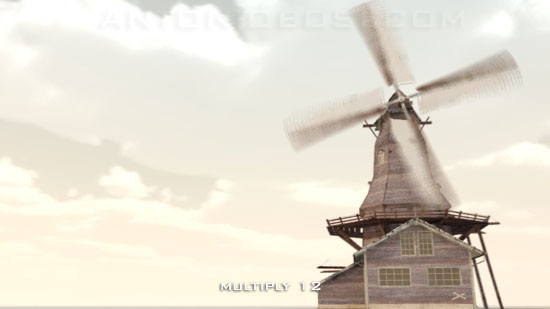 STEP 5: tune sun position

Hybrid cloudy skies can follow sun, just find the prefeer position of the Mental Ray sun node, the sun will be rendered behind the clouds!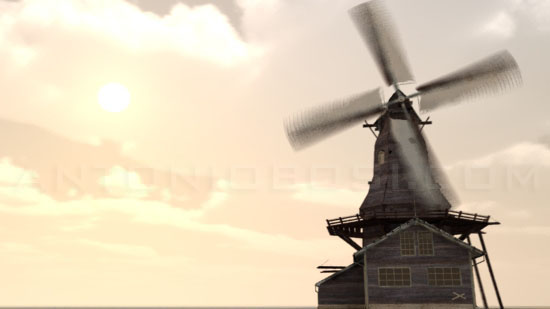 STEP 6: experiment other Maya texture nodes

You can use other types of textures to drive physical sun and sky clouds. In this example I use a the maya fractal texture node.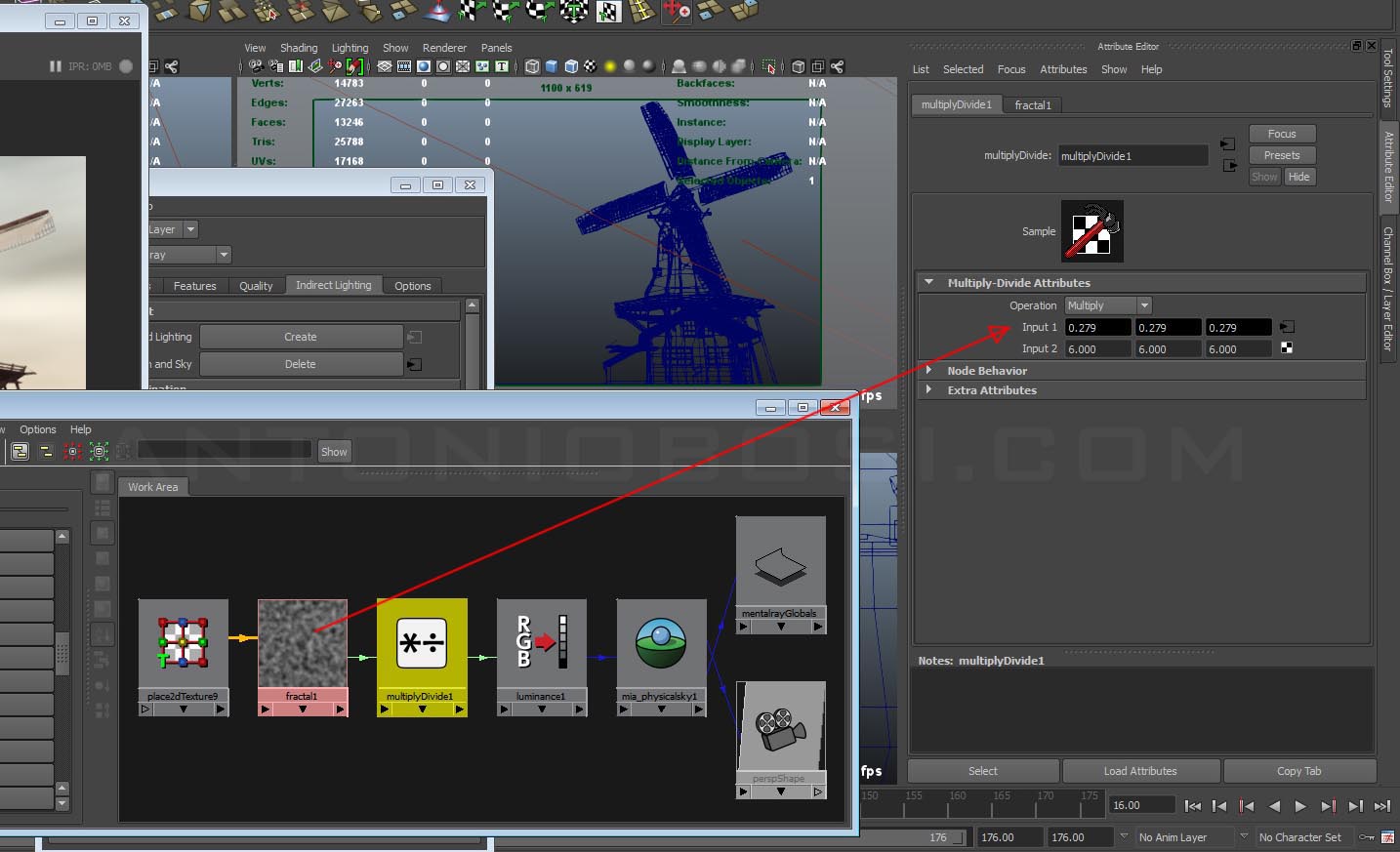 Using fractal node will give you lower quality results, but you can easly animate the fractal clouds to create some interesting effects.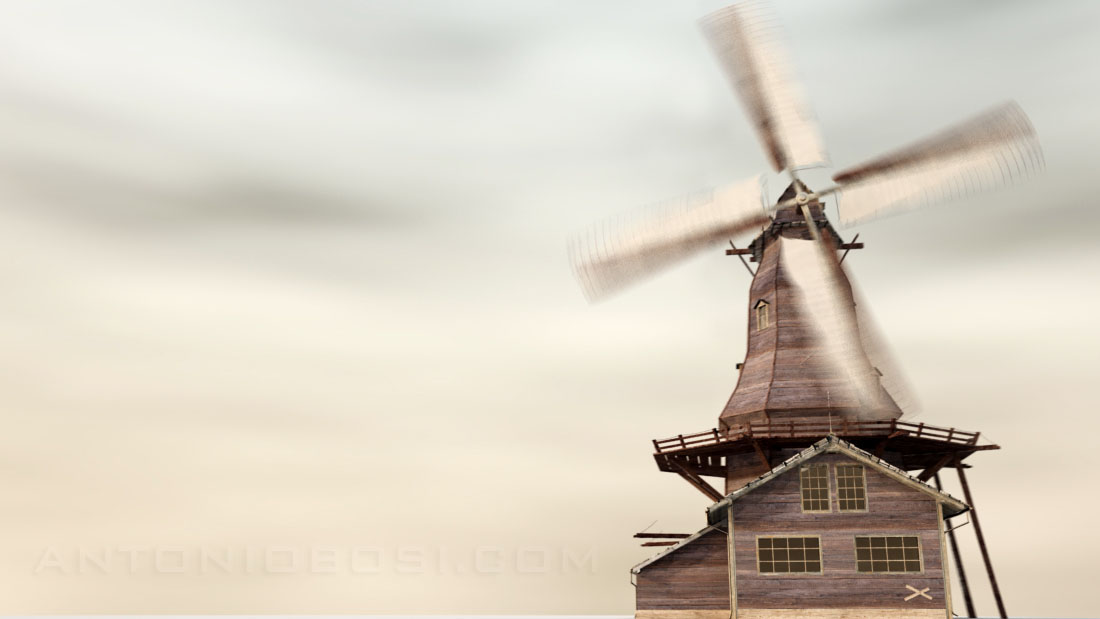 As expected the hybrid cloudy sky method render Refractions and reflections properly.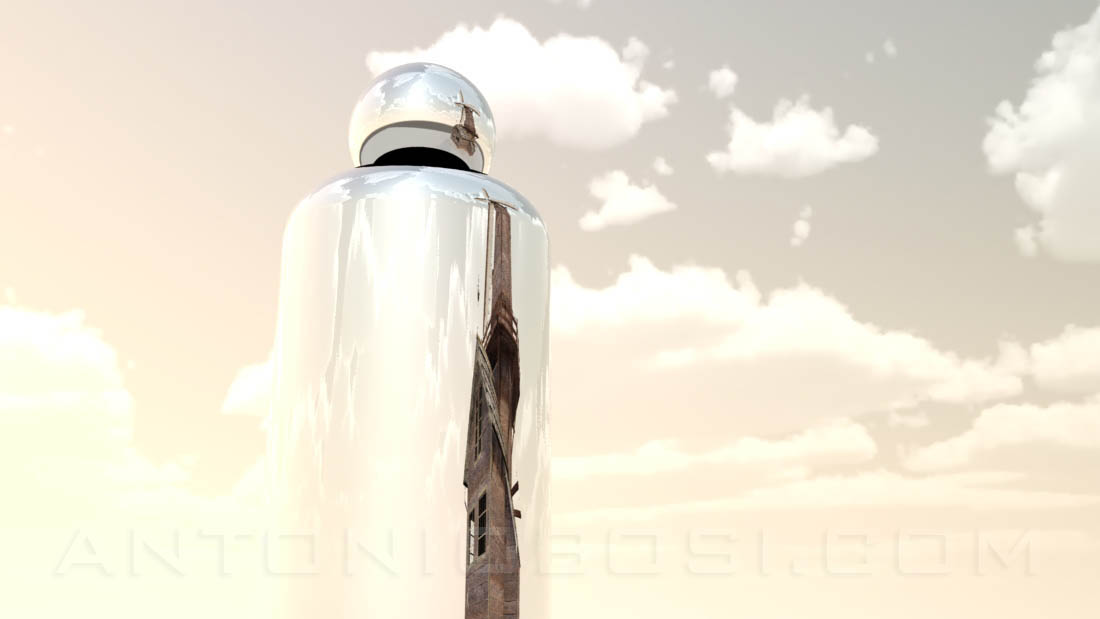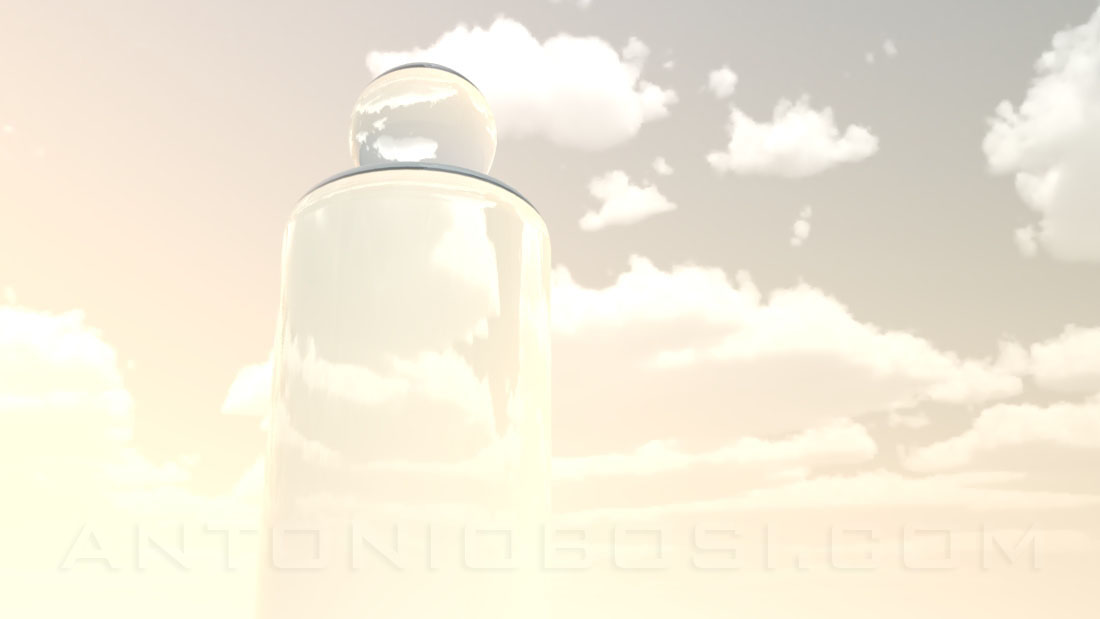 Hybrid Method Summary
PROS:
Reflections and refractions are 100% working
Fast render times
Easly customizable in post-production
Realistic light contribution
CONS:
Possibly view dependant artifacts
Not 100% physical accurated light contribution.
FINAL WORDS
Hope you had fun reading this Maya render tutorial. Feel free to make some questions or leave a feedback!
Antonio